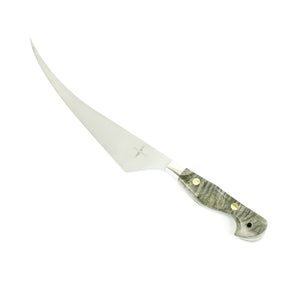 Town Cutler
Classic Fillet Knife, 8.75 inches
Regular price
$320.00
$0.00
The Classic Line is Town Cutler's flagship line of knives. The blades are made from AEB-L stainless steel and given a matte finish, allowing the blade to pass through product easily without any break-in period.
The Classic Line features stabilized buckeye burl handles with a wide range of inherent grain variation such that no two handles will be alike. These knives are easy to care for and ready to go, with a refined fit and finish.
A specialty knife for skinning, cutting, and removing bones from fish. Fish is a very delicate protein with hard and sharp bones. To best handle this combination, our fillet's blade is our most flexible and is thin and narrow toward the tip to glide through the fish's protein easily, while its thicker heel aids in pushing through harder and denser bones, such as the neck and fins.
Register now for one of a kind cutlery at The Dowry!
Detail
8.75 inch blade length

AEB-L Stainless Steel

Handle: 

Stabilized Buckeye Burl

Stainless steel bolster

Loveless fasteners

Made in the USA
Care Instruction
Hand-wash with warm soapy water 

Avoid abrasive sponges 

Never put your knife in the dishwasher or leave it soaking in water 

Dry thoroughly with a paper towel after cleaning 

Always keep your knife clean and dry 
Ship Time
Check out more work by Town Cutler.
---
Share this Product
---