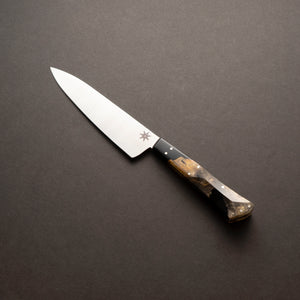 Town Cutler
Desert Dawn Utility Knife, 6 inches
Regular price
$130.00
$0.00
The Desert Dawn Collection is inspired by the high desert Nevada night skies. Made with Nitro-V stainless steel, which is known for its high corrosion resistance and long lasting edge retention.
The handles showcase live edge Buckeye Burl set in black midnight resin with nickel silver frame pinning. A swept forward heel, rounded spine, and ergonomic faceted handle grind give these knives a grip and feel that is comfortable for extended use in the kitchen.
A versatile everyday knife, ideal for peeling, chopping, and fine slicing. Smaller than a chef knife, it's great for switching between different sized fruits and vegetables, achieving more precision control in your cuts, and when working in a tight space. The blade's length and thinness are ideal for gaining greater control when working with small to medium-sized products, including fruits, vegetables, herbs, and cheeses. Make it your go-to when a chef feels excessive and a paring insufficient.
Shop for beautiful knives at The Dowry!
Detail

6 inch blade length

Nitro-V stainless steel 

Handle: 

Live Edge Buckeye Burl in Black Midnight resin

G-10 liner

Nickel silver frame pins

Made in the USA
Care Instruction

Hand-wash with warm soapy water 

Avoid abrasive sponges 

Never put your knife in the dishwasher or leave it soaking in water 

Dry thoroughly with a paper towel after cleaning 

Always keep your knife clean and dry 
Ship Time

Check out more work by Town Cutler.


---
Share this Product
---