• Tonia Conger • Gift Guide • Mother's Day

AND ALL THE WOMEN WHO HELPED RAISE YOU! We hope you are able to spend the day celebrating ALL the women who raised you. As you think about the women who shape, encourage, teach, nurture and support you, The Dowry has a few thoughts about how to make her feel the love. Check out these special, handcrafted gifts for Mom!
---
• Megan Hodges • Date Nights • Dating During Wedding Planning • Design Style • Gift Guide • Home Inspiration • Hosting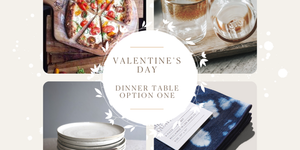 We hope one of these Valentine's Day dinner options and table-scapes resonates with you, and is worth executing this Valentine's day ~ w
ith less options for restaurant dining and the need to wear a mask, staying at home and getting creative with dinner and gifts has never sounded so good.